We have joined forces with Majozi Brothers Construction to establish a new Level 2 BBBEE tool hire joint venture – Majozi Bros Tool Hire & Sales. 51 percent owned by Majozi Brothers Construction, 49 percent owned by Hire It (Natal) PTY Ltd, it is the first black owned business of its kind in KwaZulu Natal.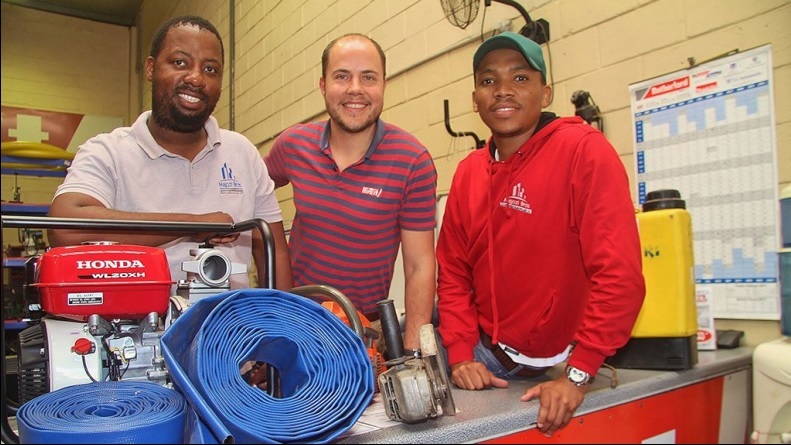 Hire it (Natal) and Majozi Brothers Construction have worked together for nearly five years before discussing this joint venture so although it is a new venture, we know each other well and can be confident that with our wealth of experience in the construction and tool hire industry, Majozi Tool Hire & Sales is ideally positioned to provide quality and well maintained equipment and efficient service. Given the level 2 broad-based black economic-empowerment (BBBEE) rating, we are able to assist commercial customers in reaching their supplier targets. However we realise that it is not enough to have an excellent BBBEE rating, we also need to make sure that we deliver quality products and service to keep our customers happy for the long term.
Majozi Brothers Construction is owned by enterprising young business partners Sihle Ndlela and Simphiwe Majozi who are both under the age of 30. They started out by supplying sound workmanship and professionalism into the township residential building market eight years ago. Since then, the company has grown and completed various projects ranging from high end residential developments within estates such as Zimbali, Cotswold Downs and Westhills estate to block offices and residential houses all over the province. They have developed their company to the point where it is now a joint venture partner with WBHO Construction in a multi-million rand Gateway expansion project that is expected to transform the province's iconic mall into one of the largest shopping centres in South Africa. It has been divided into three divisions – Majozi Bros Construction which specializes in general building, Majozi Bros Civils and Earthworks which specializes in civil engineering and commercial construction and the Majozi Bros Property Fund which invests in residential developments. Majozi Bros Tool Hire & Sales will be the fourth division.
Every established construction business needs tools to operate efficiently. It makes business sense to hire tools rather than buy. Tools are expensive, they depreciate in value and need to be continuously maintained. Companies spend hundreds of thousands monthly on tool hire, so there will always be a demand for a tool hire company that provides professional and reliable service and a good customer experience. The business is divided into 3 segments being hire, sales and repair.
The plan is to grow the company aggressively in the KwaZulu-Natal commercial construction sector by developing relationships with big construction companies and hiring tools to them on a long term contract basis at market related cost. Once we are established in KZN, we will roll the company out nationally. So watch this space… we have BIG plans for MAJOZI BROS TOOL HIRE & SALES in the future!